Deaf and blind Ava Jolliffe, eight, denied benefits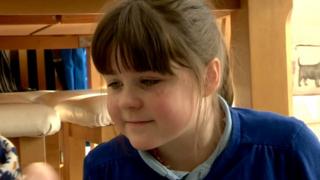 A deaf and blind schoolgirl with a rare degenerative brain illness was refused care benefits because her disability was not severe enough.
The parents of Ava Jolliffe, eight, who lives near Preston, said they have had a "nightmare" battle with the Department for Work and Pensions (DWP).
The DWP said her care should be funded by Germany, where her father works.
Ava needs round-the-clock care due to Brown Vialetto Van Laere Syndrome which can also affect breathing and speech.
Only a third of those with the condition survive more than 10 years after diagnosis.
Her family said they had spent months trying to resolve issues over what care benefits she should receive.
"The stress has been horrendous," said her mother Laura.
"Ava is certified blind, she's deaf, she's got mobility issues, she's got swallow issues... and we don't know what each day brings. So yes, quite clearly, I could do without any more stress being added by the DWP."
'Error apology'
The family moved to Germany in 2008 for work reasons but Ava and her mother and sister returned in November 2013 so she could go to a specialist school in the UK.
Her father, who has been working in Germany with BAE Systems, is due to return in July.
In June last year Ava was awarded a high rate Disability Living Allowance but last month the £81-a-week care component was rescinded.
The family was told by letter Ava's condition was not severe enough.
Mrs Jolliffe said: "For somebody to say... she's not disabled enough... I'm speechless."
The DWP said this was an error but sent a second letter stating the benefit was disallowed because Ava's father worked in Germany.
Mrs Jolliffe has staged an online protest, posing on social media holding a handwritten card that outlined their issues.
Susan Daniels, chief executive of the National Deaf Children's Society, said: "Sadly, we are regularly contacted by families, such as Ava's, who are in the unacceptable position of having to battle the system for the vital support their child needs.
"The Department Work and Pensions must take action to ensure Ava receives the help on which she relies."
The DWP apologised for the error but also said European Union rules stated the German authorities were responsible for paying disability and carers benefits.