Halsall Toys Europe fined over Fleetwood death fall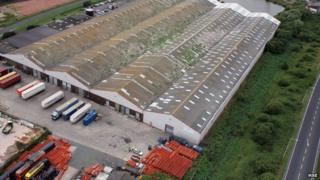 A toy distributor and a builder have been sentenced after a worker plunged to his death through a warehouse roof.
Craig Gray, 39, fell 9m (30ft) through a fragile plastic panel as he helped to clear debris at Halsall Toys Europe, Fleetwood, Lancashire on 19 July 2012.
The company was fined £200,000 and builder David Plant was given a six-month jail sentence suspended for a year by Preston Crown Court.
Both were both prosecuted by the Health and Safety Executive (HSE).
The company admitted a single breach of the Health and Safety at Work Act 1974 by failing to ensure Mr Gray's safety and was also ordered to pay £10,483 towards prosecution costs.
Mr Plant, 60, an unemployed builder of Shetland Road, Blackpool, denied breaching the Work at Height Regulations 2005 by failing to ensure the work was carried out safely.
No preparation
The court heard debris had been washing down the roof and into the gutters, causing them to overflow into the warehouse below.
Halsall Toys had arranged with Mr Plant for the roof to be cleaned, but did not carry out any checks to make sure he was competent, said HSE.
Mr Plant and Mr Gray, from Fleetwood, climbed on to the roof, which covers 36,000 sq ft (3,344 sq m), without any preparation work or planning,
They failed to use harnesses or any other safety equipment.
One of the clear panels gave way, sending Mr Gray crashing to the concrete floor below where he died, said HSE.
Speaking after the hearing, HSE inspector Allen Shute said: "Craig Gray should never have been allowed onto the warehouse roof without being given suitable training and equipment, but both Halsall Toys and David Plant allowed his life to be put in danger."