Blackpool Airport: Daily passenger flights to resume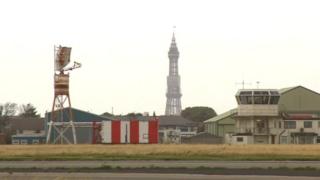 Daily passenger flights are to resume from Blackpool Airport, months after its closure.
Citywing is reinstating double daily flights between Blackpool and the Isle of Man and Belfast from 1 April.
About 100 jobs were lost when owners Balfour Beatty closed the airport in October after failing to find a buyer.
In December, the airport reopened with a licence allowing a limited commercial service but not large carriers with passengers.
Citywing started selling tickets for the Blackpool-Isle of Man route last month.
'Historic and vital'
Its managing director, David Buck, said: 'We are so pleased by this positive conclusion to our negotiations with Blackpool and that it will be open once again for flights to the Isle of Man and Belfast.
"We have remained committed to seeing this historic and vital air link to Blackpool reopen, and we are hugely satisfied to once again be able to offer this route to our customers."
Balfour Beatty bought the airport in 2008 and put it up for sale last August. It said the site had made a loss for several years.
After no buyer was found, the airport was closed with debts of £34.5m although Blackpool Council said more should have been done to save it.
It also blamed the airport's "onerous contract" with Jet2 along with a failure to bring in new routes.
About 110 staff were employed at the airport, which served 235,000 passengers in 2013.
It was voted best UK airport in 2009, according to a Which? survey.