Fire crews tackle Darwen moorland fire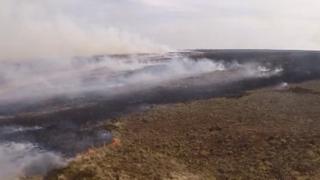 Fire crews tackled a large moorland fire in Lancashire.
The fire covered about 2 sq miles (5 sq km) of grass and peatland near Bury Fold Lane in Darwen, Lancashire Fire and Rescue said.
Six fire engines attended along with the Bay Search and Rescue team who used beaters and water packs to put out the flames, on Wednesday afternoon.
A spokesman said it was too early to know how it started, but the moorland is dry after the recent warm weather.