Paige Chivers murder trial: Robert Ewing 'groomed' girl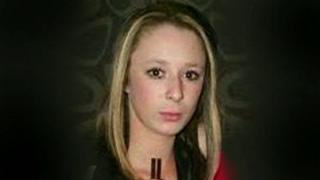 A man groomed a "very troubled" girl before murdering her, a jury has heard.
The body of Paige Chivers, 15, has never been found since she was reported missing in Blackpool on 26 August 2007.
Robert Ewing, of Kincraig Place, Blackpool, denies murder, while Gareth Dewhurst, of Duncan Avenue in the same town, denies helping him dispose of her body and a serious sexual offence.
The inquiry into her disappearance was delayed after police wrongly logged her age as 45, Preston Crown Court heard.
They did not investigate for 12 days as they had recorded her year of birth as 1962, the jury was told.
"In consequence, the matter was dealt with as though Paige were an adult aged 45 who had moved on voluntarily, rather than a girl of 15 who was worryingly missing from home," prosecutor Brian Cummings QC said.
Her age was not corrected until 7 September 2007 when police started their inquiries, he added.
Suspect 'highly stoned'
Mr Ewing, 60, was said to have had an "inappropriate sexual interest" in Paige and took advantage of her "chaotic and dysfunctional" upbringing.
Less than a fortnight before her disappearance, he anonymously rang police to say a "problem child" had turned up on his doorstep having been thrown out by her father, jurors heard.
Mr Cummings QC said: "We allege that was him testing the water. We allege that he wanted to see what official reaction there would be to the suggestion of a 15-year-old girl turning up on the doorstep of a 52-year-old man and the answer he learned, we suggest, was very little reaction."
Eight months after Paige's disappearance, Mr Dewhurst, 46, was overheard saying he had used his car to dump the teenager's body.
He was "highly stoned" when he told a 16-year-old boy that Mr Ewing had killed Paige and forced him to use his car to dispose of her body, Mr Cummings added.
"He (Dewhurst) said that he had put the body in the boot and was saying that he was going to set his car on fire. He was frightened that he was going to get arrested or that Bob (Ewing) would kill him."
No evidence has been found that Paige is alive, the jury heard.
Mr Ewing and Mr Dewhurst also deny perverting the course of justice.
The trial continues.