Blackburn postmen attacks: Post returns after dog re-homed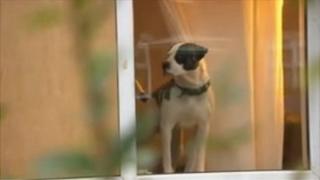 A dog that terrorised postmen on two Lancashire streets has been re-homed allowing postal deliveries to resume.
Royal Mail suspended deliveries on Worcester and Surrey Road in Blackburn following three attacks in the past year.
Staff were bitten by the American bulldog in February, July, and December despite a court order to keep the pet muzzled and restrained.
Owner Hayley Sandiford said it "broke her heart" to give up the animal.
Royal Mail has apologised to customers for the inconvenience caused.
About 60 homes on Worcester Road, where the dog called Winston lived, and nearby Surrey Street were affected by the attacks and had to collect post from Blackburn's central delivery office.
Ms Sandiford said she had obeyed the court order issued in September but the postal service refused to resume deliveries until the situation was resolved.
She said she had had Winston since he was a puppy and he was "like therapy" for her son who has behavioural problems.
"I'm glad about the post for everyone but it's totally destroyed all the work we've been doing with [my son] since he was four."
One of the postmen who was bitten said it was a "big powerful dog".
Ian Duncan said: "You're watching your back all the time to make sure it's not out and about and, if it is out, where you can go and secure yourself."
Royal Mail said: "We are pleased with this outcome and can confirm we have resumed our regular service to residents in the Worcester Road area of Blackburn following the removal of the dog from the property."