Samuel L. Jackson: Star posts selfie for Blackpool film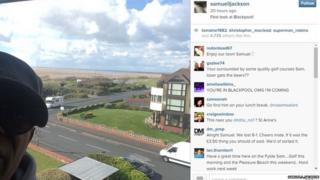 Filming for a movie starring Hollywood actor Samuel L. Jackson has begun in Blackpool.
He announced his arrival for the shooting of Miss Peregrine's Home for Peculiar Children by posting a selfie on Instagram taken on the Fylde coast.
The star of Pulp Fiction and the Avengers film series also tweeted: "First look at Blackpool!"
The forthcoming fantasy film, directed by Tim Burton, is due out in March 2016.
It is set on a mysterious island where a teenager helps a group of peculiar orphans from creatures who are out to destroy them.
---
Blackpool on screen
Coronation Street (1989) - Rita Fairclough's evil lover Alan Bradley is knocked down by a tram as he chases Rita along the promenade
Bhaji on the Beach (1993) - Meera Syal's bitter-sweet tale about a group of Asian women on a day trip to the Blackpool illuminations
Funny Bones (1995) - Jerry Lewis, Oliver Pratt and Lee Evans starred in the story of an American comedian finding his family's comedy roots in Blackpool
---
The cast also includes include Dame Judi Dench, Asa Butterfield, Ella Purnell, Allison Jannley, Terrence Stamp, Kim Dickens and Rupert Everett.
The movie is based on the US children's book written by Ransom Riggs and is set to feature Blackpool Tower and a number of the resort's landmarks.
When asked about his vision, Tim Burton told the BBC there was "a vibe about [the book] which felt different".
He said: "I think that's the key, to try to capture the spirit of the book. That's why I'm casting peculiar people."
Tim Burton also filmed the Killers music video for Battle Born in Blackpool.
The BBC understands Mr Jackson is staying in the Lytham area during filming.