Blackpool chairman Karl Oyston's son pays fan £20K for online slur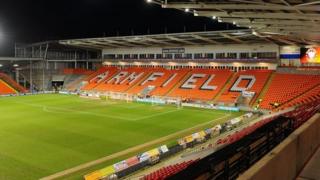 The son of Blackpool chairman Karl Oyston has agreed to pay a fan £20,000 after making a libellous comment about him on social media.
In a statement on a Seasiders fan website, Samuel Oyston apologised to Andy Grice for implying Mr Grice left his casino job because he was a thief.
He said would pay Mr Grice the sum in damages and to cover legal costs.
Karl and father Owen Oyston, who owns the football club, are suing several fans over allegations made online.
Mr Grice said he would make a comment on Thursday.
Samuel Oyston, who is general manager of the Blackpool FC Hotel, also posted an apology on his Twitter account regarding the tweet, written in February of last year.
In the statement posted on Fansonline.net on Tuesday, Mr Oyston said: "I accept that my tweet would have been understood as alleging that Mr Grice was guilty of theft.
"That allegation was completely false and unfounded and I retract it."
He added: "I also apologise unreservedly to Mr Grice for the damage and distress my actions have caused. I have agreed to pay Mr Grice damages and his legal costs in the total sum of £20,000."
Mr Grice, a cricket coach, said: "I can't comment until tomorrow when I will gladly do so."
Karl and Owen Oyston are seeking £150,000 damages for allegedly defamatory comments made on the Back Henry Street website.
Blackpool supporters have been involved in demonstrations, match boycotts and social media campaigns over the way Oyston family run the club.
The Seasiders' last game of the season was abandoned due to a pitch invasion by protesting Blackpool fans.