Blackpool dance event hotfoots to China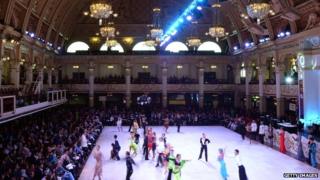 The annual Blackpool Dance Festival will cha-cha to China next year for the launch of its first overseas event.
The tournament, which started in 1920, attracts more than 20,000 competitors and spectators from about 60 countries.
Michael Williams, from Winter Gardens Blackpool, said the Shanghai spin-off would be a "great opportunity" to spread ballroom dancing's appeal.
The expansion would also provide "an invaluable opportunity to introduce Blackpool across East Asia", he added.
"Over the past few years, we have seen an influx of Chinese dancers competing in Blackpool.
"For us to take elements of our festival to China can only increase the number of dancers that will want to come and experience the magic of dancing in the magnificent Empress Ballroom."
The Blackpool event, currently taking place in the town's Winter Gardens, will continue to be held every May.
It incorporates various competitions including the British Open Championships for amateur and professional couples.
The Shanghai version will take place at the Grand Stage between 19 and 23 August 2016, with participants able to compete in both Latin and ballroom dancing.
There are plans to expand the Chinese event every year, a spokesperson said.