Heysham nuclear reactor goes offline in 'unplanned outage'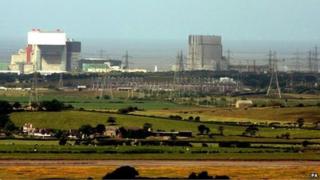 A nuclear reactor has gone offline in an unplanned outage, its operator has confirmed.
The 660-megawatt reactor at the Heysham 2 site, near Morecambe, Lancashire, was taken offline at 13:48 BST because of "operational requirements", EDF Energy told the BBC.
The reactor was back online from 03:45 on Thursday, three days after the outage.
The cause of the unplanned outage was an issue with a boiler feedwater pump.
Heysham is the only site in the UK to have two operating nuclear power stations.
'Safely shut down'
In January, a fault at the Heysham 1 site led to one of the reactors being closed down.
A reactor there was closed last August after a routine inspection discovered a fault, while a reactor at the same site was closed in May 2013 when smoke was spotted.
Britain has 16 nuclear reactors with a combined capacity of more than nine gigawatts. All but one are operated by EDF.
Nuclear power plants regularly stop production for maintenance or to refuel. They cut capacity gradually and it can take a few hours until output reaches zero.
A spokesman for EDF confirmed number 7 reactor at Heysham 2 had been "safely shut down" but could not confirm the reason.
The Heysham 2 site was completed in 1988 after about eight years of building. It is due to be decommissioned in about 2023.