Light aircraft from Isle of Man missing off Blackpool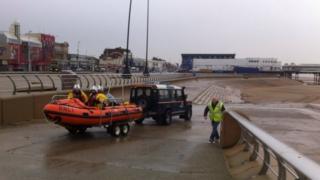 Contact has been lost with a light aircraft off the coast of Lancashire, police have said.
The aircraft was travelling from the Isle of Man to Blackpool Airport with one person on board when contact was lost and it disappeared from the radar three miles out at sea.
A coastguard spokesman said there is a "strong likelihood that this aircraft may have ditched into the sea".
The plane was due to land at Blackpool Airport at 09:15 GMT, police said.
A search is under way involving Lancashire Police, along with Blackpool Coastguard and Morecambe Bay lifeboats.
A Lancashire Fire and Rescue Service spokesman said a search of the shoreline had been completed.
Coastguard and police helicopters are supporting two lifeboats are continuing the sea search.