South Ribble taxi child sex claims report 'cover-up'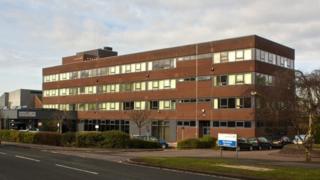 Calls have been made for three council cabinet members to be dismissed over a report that found allegations of child sexual exploitation by taxi drivers were not dealt with adequately.
South Ribble Council's opposition leader, Paul Foster, has accused the Tory-led authority of hiding the interim report in a "stitch-up".
He said councillors Warren Bennett, Caroline Moon and Michael Green had "no right to hold the information back".
They deny any wrongdoing.
Councillor Foster raised the issue at a meeting in Leyland on Wednesday. He said the three cabinet members had received the interim report and "sat on it".
Openness and transparency
The three councillors "excluded" other cabinet members and "managed the internal review themselves", he claimed.
This, he said, went against the council's constitution.
The trio said it was right to keep the report, which was leaked last week, from the rest of the council until it was finalised.
The report, written in December by solicitors Wilkin Chapman LLP, detailed two cases of alleged child sexual exploitation involving two licensed taxi drivers.
One case alleged a taxi driver had made inappropriate sexual remarks to a vulnerable 16-year-old girl who he transported as part of a school contract, and one involved a driver who was arrested for sexually abusing a girl of primary school age.
The cases were "not properly investigated" by the council, the report said.
It recommended the council should "identify any risk to the public" and improve its training of staff.
Two members of staff were suspended.
The leader of South Ribble Council, Margaret Smith, said the authority had already made most of the changes recommended, and the full report would be published once the investigation had concluded.
At the meeting on Wednesday, the cabinet voted unanimously for the chairman of the scrutiny committee Mick Titherington to form a group to investigate the report's findings.
Lancashire County Council's Cabinet member for Children, Schools and Young People and Labour Councillor for Leyland, Matthew Tomlinson said it was a "sorry, sorry mess" and called for openness and transparency.