Great Manchester Run: Shelly Woods wins wheelchair race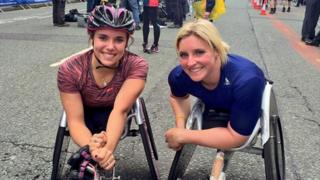 Paralympian Shelly Woods has secured her second successive win in the Great Manchester Run.
The Blackpool athlete won the Elite Women's Wheelchair event with a time of 25:21, closely followed by Jade Jones who finished in 25:35.
Woods, 29, said she was "proud" of her win as Jones "pushed me all the way" which helped her to a faster time.
Woods, a two times Paralympic silver medallist, said she felt strong as she prepares for the Rio 2016 Paralympics.
'A bit bumpy'
She said the Great Manchester Run has a "brilliant atmosphere".
"I always love coming here to race, the course is quick too, a bit bumpy, but good fun."
Woods, whose ultimate ambition is to win gold at Rio, said: "It was a good race. Jade's strong, she's on the way up, so she's doing well. It pushes you on."
She added: "It's a Paralympic year and I'm feeling strong and fast."
Woods won a silver medal at the Beijing 2008 Paralympics in the 1500m event and bronze in the 5000m race. She picked up a silver at the London 2012 Paralympics.