Blackpool considers ban on alcohol adverts by 2018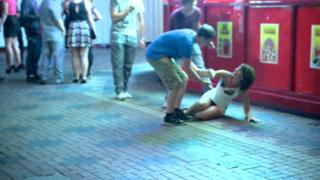 Alcohol advertising could be banned in Blackpool in the next two years in a bid to reduce the town's drink-related crime and health problems.
Councillors will be asked to consider imposing a ban near pubs, shops and off licences in a new Alcohol Strategy.
The report, to be discussed at the council's Health and Wellbeing Board, calls on the authority to create a new by-law by March 2018.
Alcohol advertising is currently banned in all council properties.
The ban was first mooted three years ago but this is the first time a timetable has been set for a possible by-law.
The latest report notes that drink-related death rates for both men and women in the resort are "significantly higher" than the national average.
'Catalyst for crime'
Blackpool, a popular destination for stag and hen parties, also has the highest rate of alcohol-related hospital admissions of any local authority in England.
"Alcohol is too often a precursor and catalyst for crime and disorder in Blackpool in addition to creating health and safety issues," it said.
Residents are "significantly more likely" to be victims of alcohol-related sex crimes and the rate of drink-related violent crimes is "more than double the England rate."
Other measures to tackle alcohol abuse include "wet gardens" where street drinkers could be directed from parts of the town where they commit anti-social behaviour.
Another idea would be "recovery centres" where people could go to sleep off their drink-intake when the clubs close or be rehydrated with bottled water instead of ending up in A&E, police cells or having a fight.
Councillor Amy Cross, Blackpool Council's Cabinet Member for Reducing Health Inequalities, said: "It's not to say that we will bring in every suggestion, but we won't rule them out either."
A night-time safe haven bus already operates during summer weekends offering support to party-goers and vulnerable people in the town centre.