Two Lancaster museums at risk of closure due to cuts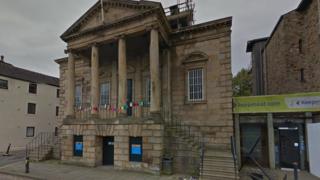 Two museums in Lancashire should close to aid local authority cuts, a report recommends.
Lancaster's Maritime Museum and the city's Cottage Museum are at risk if the proposals are approved.
A report said the two museums attracted just 13,000 visitors in 2015/6 and maintaining them risks "the viability of the museum service".
Lancaster City Council's cabinet will discuss the report at its next meeting on 28 June.
The council said "no decisions will be taken" on which of the report recommendations to pursue, but they will "authorise that further work takes place to test the options".
'Passionate about future'
Earlier this year, five Lancashire under-threat museums were reprieved as they were kept open until September.
The latest report says the Customs House part of the Maritime Museum could be mothballed "in case it is needed in connection with the interpretation of the Roman finds found recently in Quay Meadow".
The museum has been temporarily closed as a result of flooding during Storm Desmond last year.
The report recommends refurbishing City Museum, in Lancaster's former town hall, and creating a new facility at Morecambe seafront.
Robert Aitken, one of the report authors, said: "All local authorities are faced with having to reduce expenditure and make savings whilst also striving to ensure that services remain relevant and fit for purpose.
"As someone who lives locally, I'm passionate about the future of our culture heritage and how it can inspire future generations."