Sadie Hartley murder trial: Victim killed with 'demonic savagery'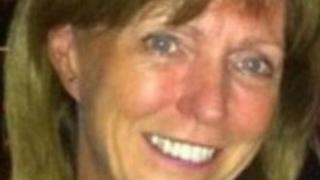 A jealous woman paralysed her love rival with a cattle prod before stabbing her victim with "demonic savagery", a murder trial has heard.
Sarah Williams, 35, shot "decent, hard-working" businesswoman Sadie Hartley, 60, in the head with a stun gun at her home in Helmshore.
She then stabbed and slashed the mother-of-two 40 times in an "orgy of violence", Preston Crown Court heard.
Ms Williams, from Blacon in Chester, denies murder.
'Possessive and difficult'
The defendant had been in a past relationship with Ms Hartley's partner Ian Johnston, the jury was told.
The court heard Mr Johnston, 57, was out of the country at the time of the attack in January.
He had ended his relationship with Ms Williams after she became "possessive and difficult," said John McDermott, prosecuting.
Ms Williams, he said, was "obsessed" and "set her mind" to rekindling the relationship, but Ms Hartley was the "obstacle".
'Endless plots'
The court heard that she recruited Katrina Walsh, 56, also from Chester, to help her with the "murderous mission".
Ms Walsh, who also denies murder, kept a diary as they hatched the plot, jurors were told.
One entry read: "Sarah came round so got caught up in endless murder plots".
Another read: "Wow, I may get to be instrumental in helping to remove the awful woman."
'Planned assassination'
The court heard the pair had bought a tracking device as they did not know where Ms Hartley lived.
They attached it to Mr Johnston's car were then able to pinpoint where they lived, prosecutors claim.
At about 20:00 GMT on 14 January, Ms Hartley answered her front door.
Mr McDermott said Ms Williams was standing on the doorstep and "as soon as the door was opened, we suggest she lunged at Sadie Hartley with of all things, a stun gun - the sort of thing you might use legitimately to prod cattle.
"She pressed it against her - Sadie Hartley's head - and incapacitated her.
"Then, with what can only be described as almost demonic savagery, she attacked her with a knife."
Mr McDermott said she was stabbed and slashed and left with appalling injuries, in a pool of blood in her hallway.
The prosecutor said it was a "premeditated, planned assassination of an innocent woman".
Unbeknown to Ms Williams the tracking device was still recording information and this enabled the prosecution to start building the case against her, the court was told, as it placed her in specific locations at key times.
The jury was told that, while Walsh did not join in on the night of the murder, she cleared up and disposed of the evidence.
The trial continues.