Pope turns ex-Preston church into Indian Catholic cathedral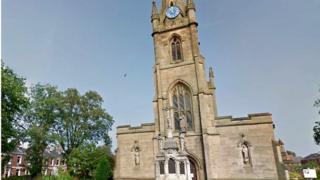 The pope has declared a formerly closed church in Lancashire a new cathedral for Indian Catholics, making it one of only three worldwide.
The Grade II-listed St Ignatius Roman Catholic Church in Preston was shut in December 2014.
But it has reopened as a parish church serving an Indian branch of the Roman Catholic Church.
A Vatican statement said the church would get its own bishop to serve its special diocese.
The Indian community are from the Syro Malabar Rite which claims to have been founded by St Thomas The Apostle in India and is one 22 Eastern Catholic Churches which is in unity with the Pope.
Bishop Michael Campbell of Lancaster Diocese, which covers Preston, said he welcomed "this exciting news".
He said the establishment of the new Diocese or Eparchy is a "clear indication of the care of the Holy See for the thousands of Syro-Malabar Catholics who have settled in Great Britain".
St Ignatius was built in 1836, seven years after the legalisation of Catholicism in England, and was staffed by the Jesuit Order.