Car crashes into front room of Preston house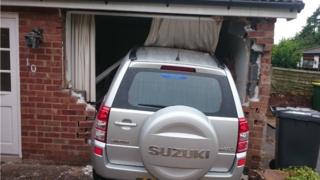 A car has crashed through a wall and into the front room of a house.
Fire crews responded to an emergency call to Sandygate Lane in Preston, Lancashire at about 15:30 BST on Wednesday.
Firefighters used a winch to extract the Suzuki from the house. No-one was injured in the crash.
Lancashire Fire and Rescue said the building needed shoring up by Urban Search and Rescue teams from Bamber Bridge to prevent structural damage.
It is not known whether the house was occupied at the time of the crash.