Carpool karaoke star Ted, 79, goes viral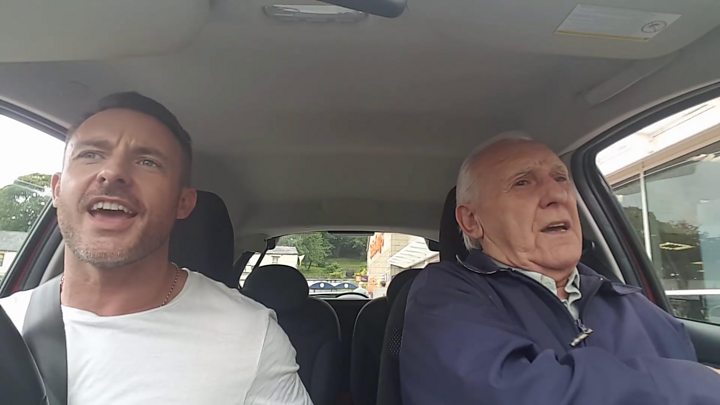 A former Butlin's Redcoat who is suffering from Alzheimer's has become an internet star singing carpool karaoke.
Ted McDermott, 79 - also known online as The Songaminute Man - was diagnosed with dementia in 2013 after decades of entertaining in pubs and clubs.
He was filmed by his son singing Quando, Quando, Quando in the car as they drove around Blackburn in May.
The videos have now been watched by thousands around the world on YouTube.
"It's gone crazy," his son Simon McDermott, 40, said.
"The song Quando, Quando, Quando has been really popular. People love it. We have a link on it to our fund-raising page.
"We've nearly raised £30,000 for the Alzheimer's Society now."
The Carpool Karaoke craze originated with James Corden's Late Late Show in the United States, which features stars such as Adele and Michelle Obama singing along with Corden in a car.
"We've had messages from people all over the world saying the videos have brought them so much joy," added Mr McDermott.
"I'm hoping to put some more videos up. I'd love to get him singing with a band, he'd really love that.
"My dad's been a singer all his life and entertainer all his life singing in cubs across the North West.
"He's 80 on Sunday and he is the eldest of 14, so we had a big party for him.
"He's a real character and he loves singing. He's got a good voice."