'Knife-wielding clown' leaves man with serious hand injuries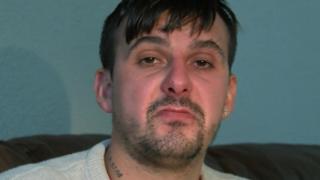 A tradesman who tackled a knife-wielding man dressed as a clown says he has suffered serious hand injuries.
Simon Chinery, 28, of Blackburn, Lancashire, told the BBC his right hand has been left unusable after the attack and he can no longer work as a joiner.
He said doctors had told him there is only a "one in a million" chance of making a full recovery.
Lancashire Police said it had launched an investigation into Sunday night's incident on Haslingden Road, Blackburn.
Mr Chinery said his assailant had a green wig and was wearing a "silky green tracksuit with yellow lines down the sleeves, and long, Gothic black boots" at the time of the attack.
'My life has been ruined'
He said he was hurt as he tried to disarm his attacker.
"As he came for me I took the knife out of his hands and battered him. It's fortunate that he attacked me, I am a kick-boxer.
"Imagine if it was a child. I could handle myself at least."
Mr Chinery said he was worried about his future, adding: "I'm only 28 and my life has been ruined - I've lost my job because I can't use my main hand any more."
Speaking about the recent spate of incidents involving people dressed as clowns, he said: "This whole creepy clown craze needs to stop before someone gets killed."