Plaque for railway pioneer Sir Nigel Gresley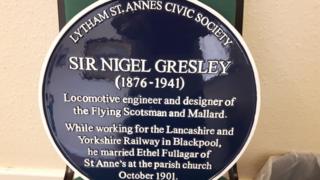 A blue plaque commemorating the man who designed the Flying Scotsman steam locomotive is to be placed at a Lancashire railway station.
The tribute to Sir Nigel Gresley, who helped modernise the rail network in the early 20th Century, will be installed at St Annes Station.
It celebrates his connection to the town in which he met and married his wife, Ethel Frances Fullagar in 1901.
Sir Nigel had worked for the Lancashire and Yorkshire Railway Company.
Sir Nigel was an apprentice at The Horwich 'Loco' works and later became a locomotive foreman in Blackpool. He was knighted in 1936.
The plaque, funded by St Annes town council, commemorates Sir Nigel's marriage to Ethel Fullagar at St Annes Parish Church in October 1901.
It will be unveiled on Monday as a four-day return of the Flying Scotsman to the East Lancashire Railway ends.
Sir Nigel, who was born in Edinburgh in 1876, died in 1941 and is buried in Netherseal, Derbyshire.