Lancashire County Council agrees bus lane fines refund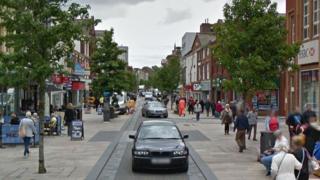 A council has agreed to refund motorists who were fined for driving in a new bus lane with "inadequate" signage.
Lancashire County Council could face a hefty bill after 23,000 motorists were fined £1.3m on Fishergate in Preston city centre.
The Traffic Penalty Tribunal (TPT) Adjudicator ruled in favour of six motorists who challenged their fines.
The council offered to review all cases but the bus lane will remain in place.
Drivers will have to send in their appeals in writing by 13 April and the council said it will issue refunds where appropriate for first-time cases as a "goodwill gesture".
The bus lane, between Mount Street and Corporation St will remain in operation from 11:00 GMT to 18:00 every day.
Councillor John Fillis, cabinet member for highways and transport, said: "These measures will stay in place while we review consultation responses and look into measures such as extra signing, following the adjudicator's findings.
"We won't use cameras to enforce this bus lane while we review it and look into options.
"This means that unauthorised vehicles are still restricted from using this section. And we ask people to respect this. "