Lancashire fracking site decision 'unlawful', claim campaigners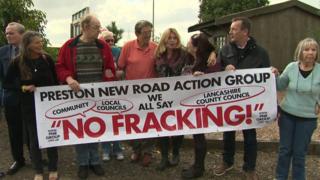 A "landmark" government decision to grant permission for a horizontal fracking site was unlawful, campaigners have claimed at a High Court hearing.
Preston New Road Action Group (PNRAG) and campaigner Gayzer Frackman are both challenging the ruling over Cuadrilla's site at Little Plumpton, Lancashire.
A planning application had been rejected by Lancashire County Council but the government later overruled it.
The hearing at Manchester Civil Justice Centre is expected to last three days.
What is fracking and why is it controversial?
David Wolfe QC, representing PNRAG, said the group was "wrong-footed" because the planning inspector's decision was based on an argument made after their closing submissions at the planning inquiry when the group's advocate was not present.
He said the inspector's decision that the site would not have a significant impact on the landscape because it was only granted permission for a temporary period was not lawful and breached the council's development plan.
Marc Willers QC, on behalf of Mr Frackman, said the site would lead to a "considerable quantity of greenhouse gas emissions" and there would be "no assessment of the... emissions being pumped through the gas grid to homes and industry."
The Secretary of State for communities and local government and Cuadrilla are represented at the hearing but the court was told the council was not taking part in the proceedings.
Work started to prepare the Preston New Road site in January and it has been the scene of continued protests by anti-fracking campaigners.