Baby born at Derian House Hospice in Chorley 'symbol of hope'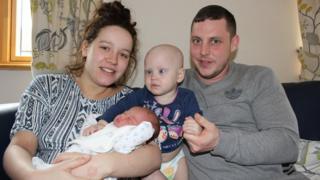 The mother of a toddler dying of cancer gave birth to a baby boy during a respite stay in a hospice.
Lauren Doherty gave birth at Derian House Hospice in Chorley, Lancashire, as she was staying with 18-month-old Gracie on Wednesday.
Ms Doherty, 22, from Rochdale, said she was "relieved" Gracie got to meet her brother Charlie.
The hospice said the first baby born there was a "symbol of hope".
Susie Poppet, head of fundraising at the hospice, said the chance for Gracie to welcome her 9lb 3oz brother into the world was "wonderful".
She said "It is a first for Derian House... a symbol of hope in the darkest of moments."
Ms Doherty was staying at the hospice for two nights with Gracie, who has an incurable brain tumour.
She said she was woken by contractions at 04:00 GMT on Wednesday, but was sent home from hospital when they stopped.
She returned to Derian House, only for her waters to break at 18:30.
Paediatric palliative care nurse Louise Leach cared for her until a midwife and paramedics arrived to deliver her son.
She said it was "scary" it was just her, her partner Zak Greenwood and Ms Leach at the hospice but she was "so happy".
And she added Gracie has taken to the new addition, adding: "She gave him a hug and a kiss."