Blackpool plans £25m history museum at Winter Gardens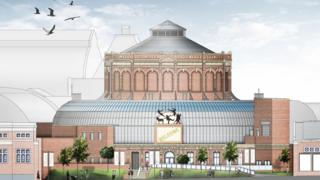 A £25m museum celebrating the history of Blackpool over the past 150 years has been planned for the resort.
The Museum of Blackpool would be based inside the Horseshoe and Pavilion areas of the Winter Gardens and feature artefacts, films, music and theatre.
It would include more than 800 exhibits showcasing the "strong personality which is true to the lively spirit of Blackpool".
A planning application has been submitted to Blackpool Council.
Galleries will feature performers and character actors demonstrating circus skills, magic and dance.
The museum will have areas for semi-permanent displays alongside a temporary exhibition space offering in-house, touring and community exhibitions.
A new entrance would be built in Adelaide Street, where storage buildings would have to be partially demolished to reveal the original Pavilion structure.
An application for £15m towards the project has been submitted to the Heritage Lottery Fund, with the council investing more than £2m towards the development.
The remaining £8m would come from "charitable donations, philanthropy and other grant sources", the council said.
The Grade-II* listed Winter Gardens complex, which includes Blackpool Opera House and Empress Ballroom, officially opened in July 1878, to provide an entertainment space "especially desirous during inclement days".
In January, it was announced the complex was to get a £21m conference centre and hotel.