Duggie Chapman: Former entertainer and theatre producer dies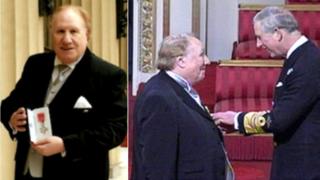 Former entertainer and theatre producer Duggie Chapman has died, aged 81.
One of Lancashire's showbusiness veterans, Chapman produced stage shows for more than 50 years and made more than 100 appearances on the BBC.
Born in Burnley, he began his career with an appearance in a feature film aged 11 and was awarded an MBE in 2009 for services to light entertainment.
His partner, Beryl Johnson, said "showbusiness was Duggie's life" and he "will be sorely missed".
She said he died at about 06:00 GMT on Saturday - a day after his birthday.
Comedian Stu Francis said many people "relied on Duggie" to help them into the entertainment industry.
Paying tribute to him, the former presenter of children's television series Crackerjack said Chapman "gave a lot of work to a lot of people".
"A lot of entertainers at one point relied on Duggie" because "he would put you in pantomime" and when it finished he would take performers on to his tours or variety shows in Blackpool.