Heysham Moss 'arson' destroys Large Heath butterfly habitat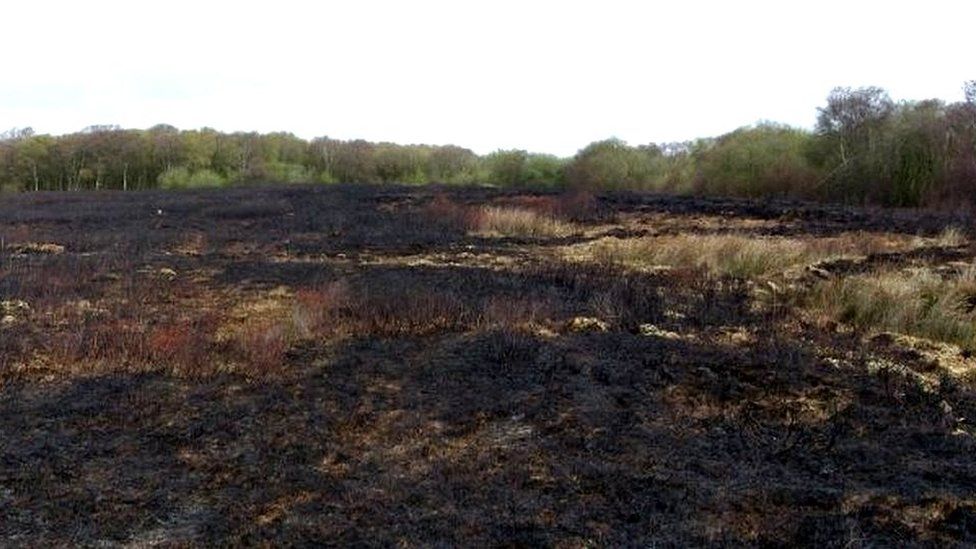 A rare butterfly missing from a nature reserve for over 100 years may have been "wiped out" in a large fire, said conservationists.
The blaze, thought to have been started deliberately or through carelessness, destroyed much of the colony's habitat.
Lancashire Wildlife Trust said it was "heartbreaking for everyone involved".
The trust said the fire spread because of the wind, affecting an area of land the size of several football pitches, over the weekend of 8 April.
The butterfly had been reintroduced as part of a joint project with Chester Zoo on a lowland bog designated a Site of Special Scientific Interest.
While many of the plants will return slowly over the next few years, the trust said the species has very little chance of recovery.
Factfile: Large Heath butterflies
Large Heath butterflies need two plants in abundance in order to thrive, hare's tail cotton grass and cross-leaved heath
The cotton grass provides food for the butterfly's caterpillars, while the heath is the main nectar source for the adult insect
Land management work at Heysham has meant both plants are now present in sufficient quantities to support the species
Source: Lancashire Wildlife Trust
Wildlife Trust officer Reuben Neville, said: "The fire has probably destroyed the caterpillars which are active among the vegetation at this time of the year and any that have survived will struggle to find any remaining food plants.
"People need to understand the devastation they can cause by starting fires on precious areas for wildlife.
"It is not only those today, but future generations that may lose out on the chance to see this rare and beautiful butterfly here in Heysham again."
Lancashire Fire and Rescue Service confirmed an investigation was under way.
A spokesman said: "It's a terrible loss. Fires like this always have consequences, and invariably it's the loss of habitat and sometimes creatures themselves.
"Accidental fires can be prevented, but when it's done deliberately, it's a terrible offence."
Related Internet Links
The BBC is not responsible for the content of external sites.