Preston New Road anti-fracking protest blocks A583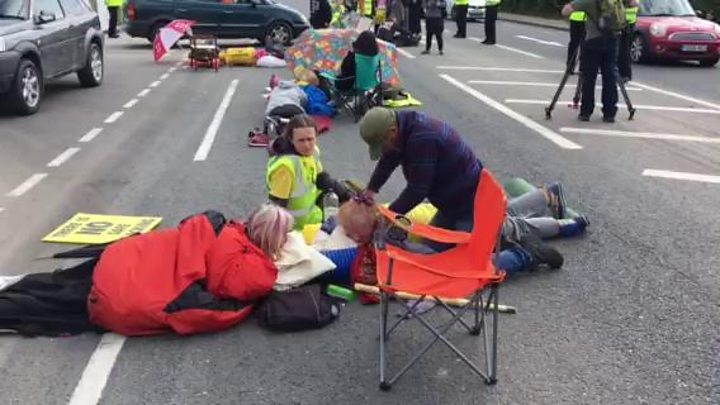 A demonstration by anti-fracking protesters has ended hours after halting traffic outside a shale gas exploration site in Lancashire.
Police were called to Preston New Road near Little Plumpton at about 06:15 BST as campaigners locked themselves together on the road.
Officers were seen leading several protestors away from the scene.
The firm Cuadrilla, which is carrying out shale gas exploration, condemned the protest as "utterly selfish".
Pairs of protestors were joined together by a lockable tube in an action described as a "lock-on" protest.
Anti-fracking protester Judy Paskell said the police had ended the lock-on late in the afternoon.
She added: "We've had a very good day, we've stopped traffic entering the site for most of the day."
A force spokesman said eight people in pairs had been on the road.
'Slow walk'
He said it had caused "a lot of problems" on surrounding roads.
Ms Paskell said the lock-on was used as a "last resort" to "stop all traffic in and out of the site" as campaigners had not been "given the opportunity to slow walk" at the site.
Walking very slowly in front to impede vehicles trying to access the drilling site is tactic that has been used by protesters both at Preston New Road and outside the premises of companies supplying the site.
Francis Egan, chief executive of Cuadrilla, said "unreservedly condemns" the activists "who completely blocked the busy A583 Preston New Road this morning with absolutely no regard for local people going about their daily business."
Protests have been held at the site since work started on 5 January.
Energy firm Cuadrilla has previously said drilling would start in the spring.