Kia driver dies in Carnforth roundabout bus crash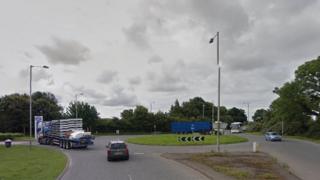 A driver has died in a collision between a car and a single-decker bus.
The 61-year-old woman was leaving the roundabout on Scotland Road in Carnforth in her Kia Sorento at about 11:40 BST on Tuesday when it hit the bus.
Lancashire Police said she was pronounced dead at the scene, while the bus driver and seven passengers were treated for a range of injuries.
The road was closed for four hours to allow an investigation to take place.