Woman jailed for killing Blackburn man with axe after 'losing control'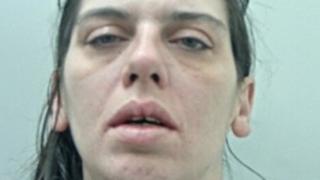 A woman who killed a man after losing control and then stole his money to go on a "spending spree" has been jailed.
Derek Taylor, 71, was living a "chaotic lifestyle" with Deanha Neely when he was found dead in an industrial unit Blackburn, Lancashire, in January.
The drug user killed him with a hammer and an axe. She then sent messages to "give the impression he was alive" and transferred £7,500 into her account.
Neely, 32, was jailed for 12 years at Preston Crown Court for manslaughter.
Neely, of no fixed address, was cleared of murder but convicted of manslaughter on Friday following a two-week trial.
She had been living with Mr Taylor in his motorhome inside the unit in Cross Fold for about 18 months before his death, police said.
He would buy drugs for her and ration the amount she was taking to prevent her resorting to prostitution to fund her habit, police said.
Neely was aware Mr Taylor had received about £45,000 and over a period of several days after his death she transferred £7,500 into her bank account, the Crown Prosecution Service (CPS) said.
After killing him she posted a message on his Facebook account and sent text messages from his mobile phone.
Mr Taylor was found by police on 18 January and it is thought he died on 2 January.
Sarah Gallagher from the CPS said: "She set out to cover up what she had done and to deceive people... into thinking he was still alive, so that she could steal from his bank account and go on a spending spree with his money.
"Deanha Neely admitted killing him but said that she did so when she had a loss of control."