Councillor Rosemary Carroll suspended over 'racist' joke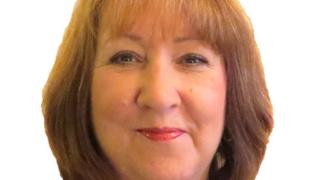 A former mayor has been suspended by the Conservative Party for sharing a "racist" joke on Facebook.
Councillor Joe Cooney, leader of the Conservatives on Pendle Council, said Councillor Rosemary Carroll was suspended pending an investigation.
The joke, which has been deleted, compared an Asian person to a dog.
Speaking before the suspension was confirmed, Ms Carroll said she had meant to delete the post but ended up publishing it by mistake.
Philip Mousdale, Pendle Council's corporate director, said he received two formal complaints about the post.
He said the complaints against the councillor who represents Earby Ward allege she had breached the council's code of conduct.
"As monitoring officer for the council I'm looking into the complaints," Mr Mousdale added.
Mr Cooney said: "We will not tolerate racism of any form. Rosemary Carroll has been suspended from the Conservative Group on Pendle Borough Council and the Conservative Party with immediate effect, pending a full investigation in due course."
Ms Carroll said she planned to post an apology.