Planned £26m Blackpool museum at Winter Gardens scrapped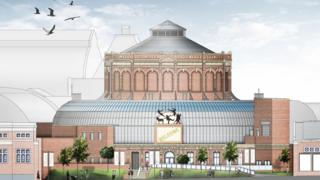 Plans for a £26m museum celebrating the history of Blackpool have been axed.
The Museum of Blackpool, earmarked for the Pavilion Theatre and Horseshoe in the Winter Gardens, was set to feature artefacts, film, music and theatre from the seaside town.
But Blackpool Council has said "large costs" to develop the Grade II* listed building resulted in an £8m funding gap and the financial risk was "too high".
Council leader Simon Blackburn said a museum could be built elsewhere.
However, opposition leader Tony Williams said the museum was "never feasible", and taxpayers' money had been wasted on the "doomed project".
The council reached its decision despite earlier submitting an application for a £15m grant from the Heritage Lottery Fund.
The scheme was awarded £1.24m by the fund in 2014, which was used to explore the feasibility of the plans along with £1m of council money.
Mr Blackburn said the money had been spent on vital surveys to help preserve the building and to establish a thorough business model.
Those plans would now be "put to good use" in establishing a museum elsewhere, and the council was "still committed" to the concept.
The Labour councillor added: "We aren't packing up our buckets and spades and going home."
He added the authority would continue to try to find a new use for the Pavilion Theatre and Horseshoe.
But he said the building of a separate £25m conference centre also set for the Winter Gardens would "change the dynamic and possibilities for the area to ensure it is not neglected".
The Winter Gardens complex, which includes Blackpool Opera House and Empress Ballroom, opened in July 1878, to provide an entertainment space "especially desirous during inclement days".