Sea bathing closed after oil and tar spill on Fylde coast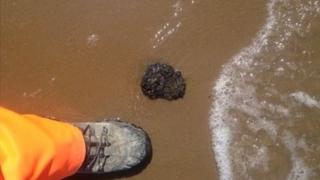 The sea at Cleveleys has been closed "as a precaution" following a minor oil spill on the coast near Blackpool.
Oil and tar balls washed up along the coast from Cleveleys to Fleetwood, at Knott End and in Blackpool, Wyre Council said.
The Knott End ferry service has been suspended and work has begun to remove the pollutants.
The source of the spill is not known but the advice is to avoid contact and keep children and pets away.
The Maritime and Coastguard Agency (MCA) is leading the response and working with the Environment Agency.
It said it had first been made aware of spots of what appears to be heavy oil and tar balls being washed up on Bispham beach on Sunday.
No marine life has been washed ashore, only oily litter and seaweed, an MCA spokesperson added.
Samples of the oil are being tested to try and identify the source.
The council said: "Cleveleys bathing water is closed as a precaution and the Fleetwood to Knott End ferry service is not running due to oil deposits on the ferry slip.
Public Health England said that short term exposure to skin may result in irritation and if someone touches the tar balls they should wash with soap and water for 10 minutes.
If you feel unwell seek medical attention, it added.