Manchester attack: Tributes paid to victim Jane Tweddle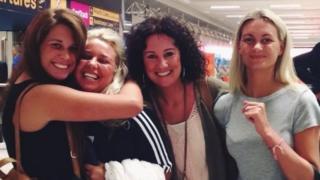 A mother killed in the Manchester attack was "our strength, our laughter, our inner warrior, our kindness and our compassion", her daughters have said.
Jane Tweddle, 51, from Blackpool, was among 22 people killed in the explosion at Manchester Arena on 22 May.
She was waiting with her friend to pick up their children.
Harriet, Lily and Isabelle Taylor paid tribute to their mother saying she "never gave up on smiling and being happy".
They added: "Our house was full of laughter and love - mum was always going out of her way to make sure us girls were happy, even if she had a bad day she'd still put all her effort in to crack a smile out of us."
"She'd pull the oldest tricks in the book to get us laughing, pretending someone was pulling her from the other side of the door with her own arm and going crossed eyed was her favourite."
"She was our mum, our best friend, our everything," her daughters said.
The girls added: "She was the light of our life and it'll never be as bright without her. She will always be with us, the three of us together are our mum and we will do our best in life to make her so proud."
They said their mum "is and always will be our treasure" in memory of how she used to often sing the Aerosmith lyrics "every moment spent with you is a moment I treasure".
Ms Tweddle's daughters also thanked their family liaison officers who have supported them since the attack and made them "feel safe", the bereavement nurses, South Shore Academy where their mum worked and Robbie Williams who, they said, made the Manchester One Love concert "magical".