Burnley dad survived 51 cardiac arrests in 10 days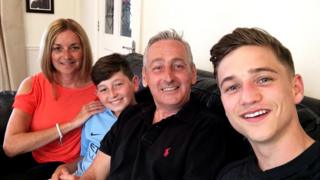 A man who suffered 51 cardiac arrests in 10 days has made a "remarkable recovery", his cardiologist has said.
Stephen Spence, 52, was taken to hospital after suffering the first cardiac arrest in his sleep.
Mr Spence, from Burnley, said staff told him he was like "a training aid" as he needed so many shocks. He has since returned to work.
Doctors say it is "extremely rare" for someone to suffer so many cardiac arrests over that timescale.
Mr Spence's wife Kate said she first realised there were problems when she thought his snoring had woken her up, only to find he did not respond when she nudged and then shook him.
"I later discovered what I thought was snoring was actually him trying to breathe as he was having his cardiac arrest at the time," she added.
Mr Spence's eldest son Josh, 22, was given instructions over the telephone by a 999 operator to carry out CPR on his dad while waiting for the ambulance to arrive.
Father-of-two Mr Spence needed shocks to restart his heart 50 times over the 10 days at Royal Blackburn Teaching Hospital after the first cardiac arrest on 9 December.
Every time he was taken off life support he had another cardiac arrest. He gradually stabilised and had an operation to fit a mini defibrillator on his heart at Manchester's Wythenshawe Hospital to help him lead a normal life.
Mrs Spence said her husband had been "healthy and well" with "no signs of heart problems".
But during those 10 days he suffered "all sorts of other complications because of the cardiac arrests", including hypoxic brain injury caused by the lack of oxygen to the brain.
---
What is a cardiac arrest?
A cardiac arrest is when a person's heart stops pumping blood around their body and they stop breathing normally.
It is not the same as a heart attack, which is a sudden interruption to the blood supply to part of the heart muscle.
Many cardiac arrests in adults happen because the person is having a heart attack.
But there are many other causes, including extreme blood or fluid loss, extreme body temperature (too high or too low), a lack of oxygen, or most commonly an abnormal heart rhythm called ventricular fibrillation.
Source: British Heart Foundation
---
Dr Ravi Singh, from Royal Blackburn Hospital, said the "sheer number of cardiac arrests over such a prolonged period of time is extremely rare".
Cardiac consultant Dr Singh said: "I think it is remarkable that Stephen has made such a great recovery."
Indigestion
Mr Spence, who has just returned to work as an operations manager with a security company, said his memories of the time in critical care were hazy.
He added: "It is as if it all happened to someone else."
He now encourages people to seek medical advice for anything unusual, saying two weeks before his first cardiac arrest he thought he was suffering indigestion.
Mr Spence added: "I thought it was just heartburn or indigestion. Maybe if I'd gone to the doctors at that stage, things might not have got as serious as they did."
A spokesman for the British Heart Foundation said what happened to Mr Spence was "very unusual but not completely unheard of".