Shetland pony killed in Preston knife attack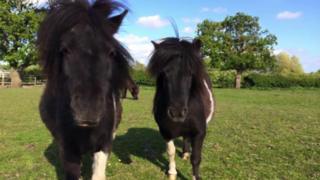 A Shetland pony has been stabbed to death and eight others injured in a "barbaric" attack.
A pony called Lucas was killed while its mother Matilda was stabbed in the neck and hind at a farm in Lea Town, Preston, Lancashire on Sunday.
The rescue animal knows it has "lost her son" and its trust has been "broken by a human again", owner Khrystinea Farnworth said.
Police said the "deliberate" attack has "caused great distress".
The ponies were attacked in a field in Darkinson Lane and the seven others received lesser injuries, Miss Farnworth said.
She said it appeared a stallion, which acts as a companion to them, was herded into a different enclosure by the attackers.
Miss Farnworth said Matilda, 24, gave birth to Lucas shortly after being rescued seven years ago when it was found tied to a tree with barbed wire.
She described the attack as "disgusting and barbaric", adding: "They can't speak, they can't defend themselves... they are tiny.
"Matilda is exhausted. She keeps shouting for him, she keeps whinnying," Miss Farnworth said.
Preston Police said on Facebook the attack, which happened in the early hours of Sunday, was "deliberate" and has "caused great distress, not only to the owner but the animals themselves".