Rossendale councillor suspended over 'benefit claims'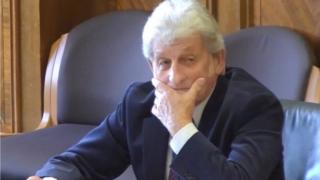 A Conservative councillor has been suspended by his party for over-claiming council tax benefit, the BBC understands.
David Stansfield, who represents Helmshore in Lancashire, is believed to have over-claimed at least £4,000.
Rossendale Borough Council said he was ordered to repay the money and fined £1,000 last September.
Mr Stansfield declined to comment after he was suspended on Sunday "pending investigation".
It followed a statement about his fine in a council meeting.
Labour told the BBC it had been alerted to his actions by a council whistle-blower prior to the meeting.
Mr Stansfield chose to accept the fine as an alternative to being taken to court, the BBC understands.
---
Analysis: Mike Stevens, political reporter for BBC Radio Lancashire
The whole debacle will now raise some serious questions across the borough.
Why was Cllr Stansfield not prosecuted? Why has he only now been suspended from the Conservative Party, almost a year after he was fined?
The council's leader, Labour's Alyson Barnes, is also questioning why Rossendale Borough Council is still refusing to name Cllr Stansfield publically.
She told me she believes the information is in the public interest and should therefore be made public.
Speaking to voters throughout the mill towns of Rossendale, the situation has certainly raised a few eyebrows.
---
A statement from the Conservatives said: "Rossendale and Darwen Conservative Association have suspended Councillor David Stansfield pending investigation."
The party, along with Rossendale Borough Council, has declined to give any more details despite repeated inquiries from the BBC.
Labour councillor Sean Serridge described Mr Stansfield's position as "untenable".
"These people are forever banging on about benefit scroungers and benefit cheats, yet there they are, trying to get out of paying their own council tax," he added.
"This despite them earning £27,000 this year from the council tax-payers in terms of allowances.
"The whole affair really has become quite sinister, and it's disappointing that David didn't just own up weeks ago and apologise."
He added that he would be referring the matter to the council's standards committee.
"The Tories locally have done their best to keep this quiet, with some referring to it as a 'private matter'. It stinks of a cover-up," he said.