Chorley Council seeks £11.5m compensation over Ikea retail park plan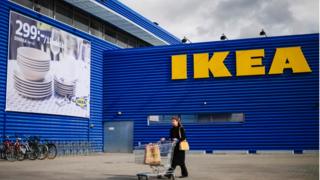 A council has demanded £11.5m in compensation if plans for a new retail park and Ikea store are approved.
Chorley Council has objected to plans for the Cuerden retail park near Bamber Bridge in Lancashire amid concerns it could threaten its £17m town centre redevelopment.
The authority is seeking the compensation from the developers and backers Lancashire County Council about the planned 65-hectare retail park.
They said the "money is not justified".
The developers said the site features restaurants and a hotel and would also create 4,500 jobs and could house offices and shops, as well as the Ikea store.
But Chorley Council is concerned the plans could drive people away from its own new-look town centre, which will feature a cinema and new high street shops.
The planning application will be dealt with by South Ribble Borough Council next month.
Chorley Council has written a letter spelling out concerns, including fears about the impact of increased traffic.
The council's deputy leader Peter Wilson said the council had been watching the plans "very closely" and wanted to "protect the interests" of Chorley.
He added: "While we want to see economic growth across Lancashire, we are concerned that the proposals don't properly address the impact that a development of that size could have on Chorley town centre and the traffic and highways surrounding the area.
"For those reasons, we cannot support the proposals as they currently stand."
The council's objection letter demands "a financial contribution of £11,520,121.00 to mitigate the impact of the Cuerden development".
A spokesman for the Cuerden Strategic Site developers said: "We are aware that Chorley Council has objected to the Cuerden application, however it is unclear from their letter what the justification is for doing so.
"Following a detailed and robust assessment, our own professional advisers have concluded that the potential retail impacts on neighbouring areas are acceptable.
"Therefore, Chorley Council's request for a significant sum of money by way of mitigation is not justified."