Falling timber smashes car windscreen in Lancashire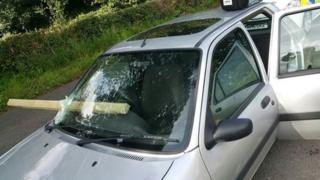 A piece of wood fell off a van as it went round a bend smashing through the windscreen of a car, injuring the driver.
He was driving along Weeton Road in Weeton, Lancashire, when the timber came off a van travelling in the other direction on Wednesday morning.
The man, is in his 50s, suffered "significant" injuries to his index and middle fingers.
The vehicle did not stop and police are appealing for information.
PC Chris Long said the van was described as a "new-looking white transit or sprinter-type pickup with a slightly enclosed back".
"The vehicle did not stop at the scene, but it is possible the driver was not aware of the load loss," he said.