Steven Weare search: Barbados police find body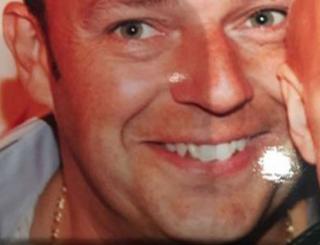 Police searching for a missing British businessman in Barbados say they have found a body.
Car salesman Steven Weare, 49, from Kirkham, Lancashire, was last seen nine days ago. It is believed he was working on the Caribbean island.
The body was found in remote Melverton in the St George area, which is seven miles east of the capital Bridgetown.
The Royal Barbados Police said they were questioning a number of people over Mr Weare's disappearance.
Insp Rodney Inniss told the BBC: "Police investigating the disappearance of Steven Weare have discovered the body of a white male in a remote part of the island.
"At the moment we are waiting for positive identification. We are speaking to a number of persons of interest in connection with the case."
Support for family
The Foreign Office has been supporting the family and is in contact with police on the island and back home in Lancashire.
The family has been informed of the police's latest discovery.
Mr Weare was last seen in a Burger King car park near Bridgetown when he disappeared on August 23.
He had reportedly been staying at Newcastle Plantation House, in Saint John on the east of the island, when he went missing.
It is believed Mr Weare is a regular visitor to Barbados and his family bought a property there several years ago.
He was wearing a white short-sleeved shirt, blue chinos and blue shoes at the time he was reported missing.
Royal Barbados Police Force said he had been driving a silver Mitsubishi Warrior pick-up with the registration number J4000.
Mr Weare is listed as a director of Fylde Motor Company in Kirkham.