Blackpool International Airport bought back by council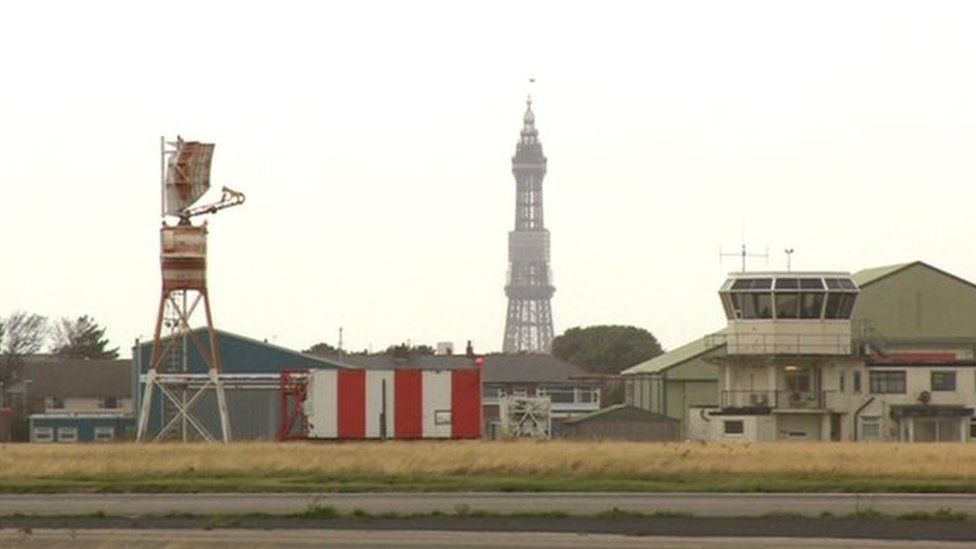 Blackpool Airport site has been bought back by the council in a £4m deal.
It brings the site back into full public ownership for the first time in 13 years.
Blackpool Council sold the airport for £13m ($17m) in 2004 but it retained 5% shares in the airport on Squires Gate.
Council leader Simon Blackburn said the acquisition from Balfour Beatty would protect 30 jobs at the site but added it was unlikely large-scale passenger planes would return.
Mr Blackburn said it was "absolutely vital" to safeguard the airport's future and ensure it continues as an aviation and employment hub.
"The purpose of this acquisition is to safeguard the helicopter and other commercial airside activities that take place [there]... and deliver our overall objective of creating up to 5,000 jobs on the Enterprise Zone site."
The authority said the purchase was being funded by a mixture of "prudential borrowing and future sales of land" within the enterprise zone to new businesses.
It added it will continue to be run by Regional & City Airports.
Balfour Beatty, which bought the site from City Hopper Airports in 2008, closed the airport in October 2014 with the loss of 100 jobs.
It said it had made a loss for several years.
Daily passenger flights to the Isle of Man and Belfast resumed in April 2015 although these stopped earlier this year.
The site became an "enterprise zone" in April last year - as part of the government's long-term economic plan to support business growth by giving cheaper business rates, superfast broadband and lower levels of planning control.
The airport site is a base for the North West Air Ambulance, flying schools and operates short helicopter flights to the oil and gas platforms in Liverpool and Morecambe Bays.
History of Blackpool Airport
In 1909 more than 200,000 spectators watched Frenchman Henri Farman take to the air at Squires Gate at a meeting of the Aero Club of the United Kingdom.
By 1946 flights carrying paying passengers took off in earnest.
In October 2014 the airport was closed with the loss of 100 jobs.
In 2015 flights resumed to the Isle of Man and Belfast although they are not currently operating.
Related Internet Links
The BBC is not responsible for the content of external sites.