Preston's Fishergate bus lane cameras to be turned back on, council says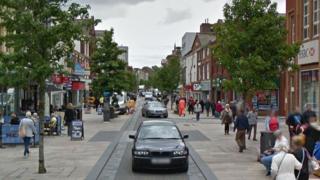 Traffic cameras set up to enforce bus lane restrictions in the centre of Preston are to be turned back on.
The cameras, on Fishergate in the city centre, were switched off after Lancashire County Council was found to have originally installed "inadequate" warning signs for motorists.
The local authority later agreed to refund 23,000 motorists who had been collectively fined £1.3m.
Now the council says it will start reusing the cameras from 6 November.
The bus lanes, between Mount Street and Corporation Street and between the junction with Butler Street and Corporation Street, are in operation from 11:00 to 18:00 every day.
Six motorists successfully challenged their fines in March, successfully arguing to the Traffic Penalty Tribunal (TPT) Adjudicator that warning signs were inadequate.
Improved signing will be added before the enforcement begins again, including four large signs on Fishergate, Fox Street, Lune Street and Chapel Street, the council said.
Councillor Keith Iddon said: "We don't want anyone to get caught out by these cameras. We're happy if we don't make a penny from them, as it means that people are doing the right thing."
The council's decision follows a six-month consultation period.