D-Day hero Dennis Oldland died after 'inadequate' care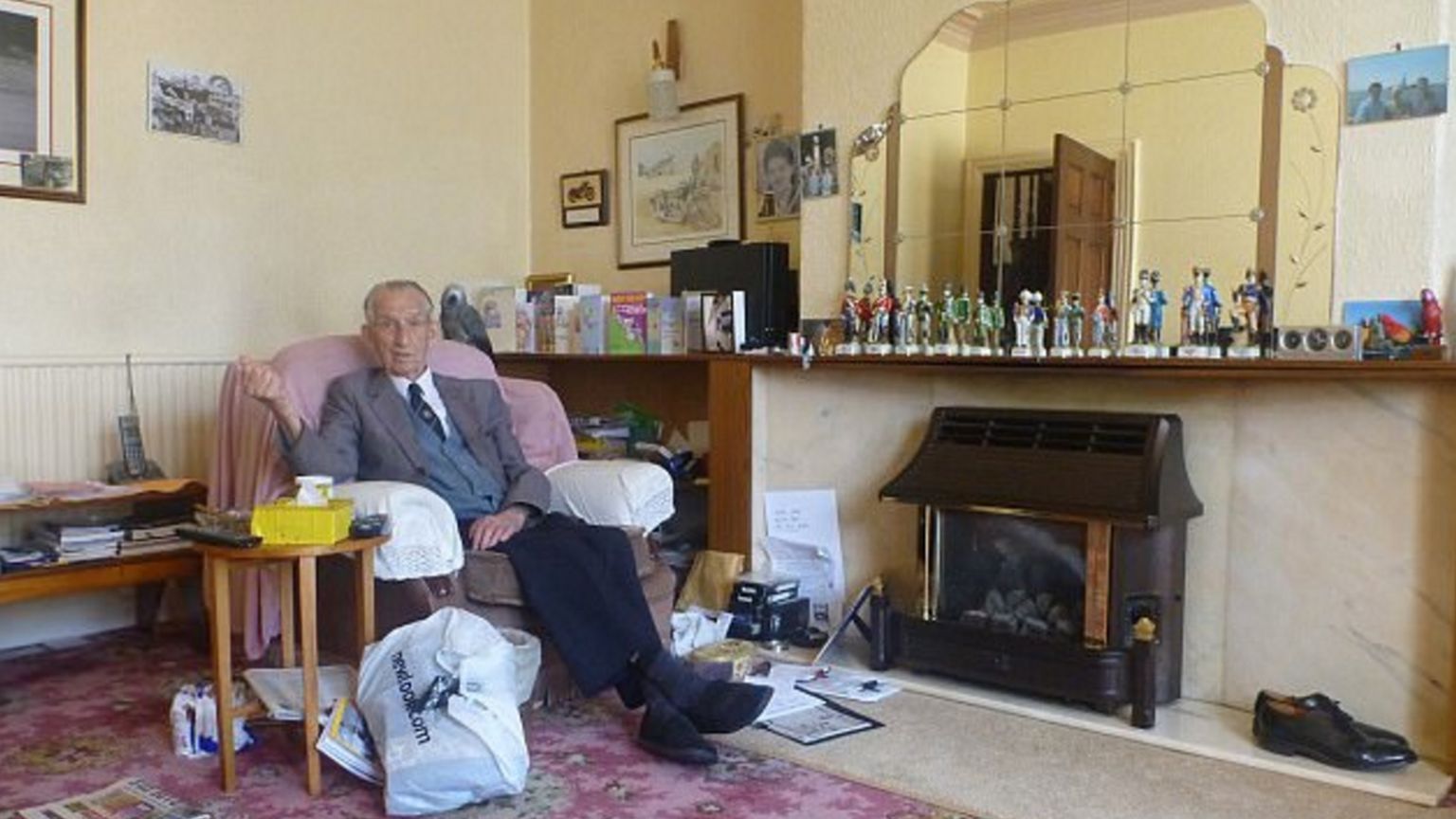 A Second World War hero died after suffering burns when he was left slumped half-naked in a chair inches from his fire, an inquest heard.
Dennis Oldland, 94, of South Shore, Blackpool, had probably suffered a mini-stroke when his carer left him alone, the hearing was told.
Carer Julie Greenwood left the frail pensioner after a visit which lasted seven and a half minutes.
Coroner Alan Wilson said the visit was "inadequate" but fell short of neglect.
He recorded a narrative verdict.
The inquest in Blackpool was told how Mr Oldland - a D-Day veteran and wartime motorcycle dispatch rider - lived alone.
He had carers visit him four times each day from Safehands Care Ltd in Blackpool.
On the night of 4 November 2016, Julie Greenwood was doing the final call of the day.
When she arrived she found the pensioner sitting in an armchair by the gas fire, watching television. He was naked from the waist down.
CCTV footage from the living room shows her coming into the room and tossing a pair of trousers at him.
A few moments later she returns to the room and leaves a cup of tea and plate of toast on the table next to his chair before leaving the house at 22.30 BST.
The visit - which should have taken at least 25 minutes - lasted for seven and a half minutes.
Ms Greenwood told the inquest that she felt "awkward" because of Mr Oldland's naked state.
But the Coroner for Blackpool and Fylde said that probably indicated the pensioner's state of confusion and it did not justify her leaving so quickly.
She denied that she failed to do her job properly and told the inquest: "He seemed fine to me. At the time I had no worries."
Mr Wilson said the visit had been "inadequate" but he was not satisfied it justified a finding of neglect.
The inquest was told that the pensioner had probably been in the chair since 18:00 BST and was found nearly 17 hours later in the same position.
He was taken to hospital with burns to his leg but died a month later from a combination of factors.
Mr Wilson said he would be writing to the care company to stress the importance for all carers to spend time talking with the people they were caring for.
The cause of death was recorded as stroke and advanced frailty and burn injury.
Safehands Care Ltd said it accepted the coroner's findings and it would review its care policies and procedures, but added it was "satisfied that all necessary and appropriate training and procedures are in place".