Broughton village bypass opens after 40 years in the planning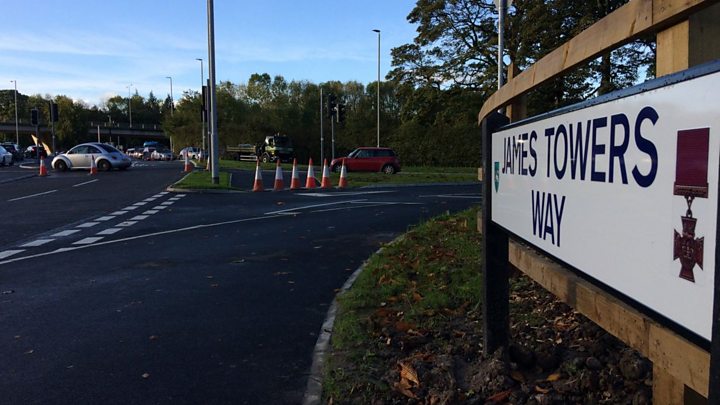 A £32m village bypass which has been 40 years in the planning has opened.
Lancashire County Council said James Towers Way aims to reduce the number of vehicles travelling through Broughton, Preston by 90%.
The first car to use 1.25 mile (2km) stretch of road between the A6 and Broughton roundabout near the M55 was a Ford Fiesta shortly after 11:30 BST.
Villager Norman Burke said he was looking forward to travelling to work without battling through heavy traffic.
"It can be 20 minutes getting to the roundabout," he added.
Preston City Council leader Peter Rankin said: "This crawl through the village has been horrendous and I think it is going to make life an awful lot better."
He said it would also improve village's air quality.
The road was named after World War One hero James Towers VC who was born in Broughton.
His granddaughter Glynis Castle watched as Rossendale and Darwen MP and Minister for the Northern Powerhouse and Local Growth Jake Berry officially opened the road.
Mr Berry said: "It has been longer in the planning than I've been on this planet."
'Built bridges'
Vicar of Broughton Shaun Baldwin said there had been a "lot of heartache and fallout" over where the bypass would be built.
He said since construction work started in January 2016 there had been closer communication between opposing groups.
He said the detour should provide better access for St. John Baptist parishioners and pupils at Broughton-Amounderness Church of England Primary School.
Karen Galloway, from Broughton Parish Council, agreed it had proved controversial.
She said there had been "very difficult times over the last few years" but "bridges had been built" between villagers and relevant bodies in the last year.