Jailed Chorley murderer 'wrote on victim with her blood'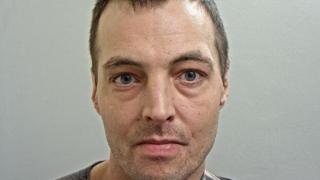 A "vicious" killer who strangled his partner and used her blood to write "you can't have my brains" on her chest has been jailed for life.
Craig O'Sullivan, 40, of Hollinshead Street, Chorley, previously admitted at Preston Crown Court to murdering Gemma Leeming, 30.
O'Sullivan also put a 10 pence coin on her eye and wrote the words "no brain" on her face in mascara, police said.
He was sentenced to a minimum jail term of 17 years.
Ms Leeming, a mother of two, was found dead in a bungalow on Hollinshead Street at about 22:25 BST on 23 May.
O'Sullivan tried to cover ligature marks on her body with make-up and dressed her in new clothes, Lancashire Police said.
Detectives believe O'Sullivan had desecrated the 30-year-old's body to suggest he was having "some sort of psychotic breakdown".
Officers said earlier that night Ms Leeming had been given money and drugs to sell and O'Sullivan had strangled her before stealing them.
A bag of some of her blood-stained clothing - which O'Sullivan "had tried to get rid of" - was found, police added.
Det Insp Paddy O'Neill said: "Craig O'Sullivan is a vicious, manipulative and parasitic man, whose greed drove him to take Gemma's life in the most sickening manner. All so he could satisfy his addiction to Class A drugs.
"Gemma's life story is indeed a sad one and it is clear she made some bad choices.
"However, she had two children and a wider family who loved her and who hoped one day for a reconciliation. O'Sullivan's actions have robbed them of that opportunity."