Ten cleared over Lancashire anti-fracking protest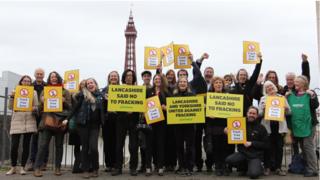 Ten Greenpeace protesters involved in an anti-fracking protest have been cleared of obstructing a highway.
The group of five men and five women sat on the ground in front of shale gas firm Cuadrilla's test site at Little Plumpton, Lancashire, on 3 May.
All ten denied the charge when they appeared at Blackpool Magistrates' Court.
District judge Jeff Brailsford found the group not guilty after hearing they had been sitting calmly and peacefully.
He said the defendants held "genuine beliefs and are entitled to express those beliefs".
They had a "lawful excuse" for their protest but his decision did not "set a precedent" for other cases, he added.
The court was told the members of the group sat in pairs with their arms locked within a square block for eight hours on Preston New Road.
They failed to stop 11 lorries leaving the site.
Lancashire Police removed two of the protesters in the afternoon while a short time later the others released themselves.
The defendants included a retired midwife, a supported housing manager, a trainee yoga teacher, a business analyst, a retired soldier, a mechanic and a film costume designer.
They were:
James Biggs, 30, of Canning Street, Liverpool
Peter Chan, 48, of Waverley Road, Reading
Helen Dryden, 47, of Calveley Walk, Standish
Jane Hayes, 58, of Langdale End, Scarborough
Hamish Haynes, 43, of Quarry Clough, Tameside
Abigail Mortimer, 30, of Lorne Road, Haringey, London;
Jeffrey Rice, 50, of Boulton Close, Chesterfield
Elizabeth Stanton, 54, of Grafton Street, Preston
Gillian Wood, 50, of Regent Road, Blackpool
Barrie Broadley, 49, of Ipswich Road, Norwich
Ms Wood said: "This was a peaceful protest and our voice was heard."
It was the largest trial of its type since protests began at the site.