Fleetwood Quays regeneration targets Chinese tourists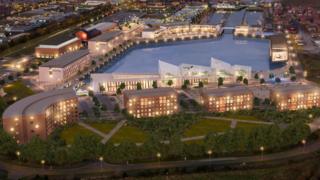 A Chinese-themed botanical garden has been included in a fishing port's regeneration plans to attract "Chinese visitors and their investment", developers have said.
The Fleetwood Quays plan also includes a hotel, leisure facilities and homes alongside the garden and a new hub for the Lancashire town's fishing industry.
Wyre Dock Development said if approved, the first stage would be built by 2022.
The proposals are due to be submitted for planning approval.
John Woodman, a director of the development company, said the plan would see the town focus on drawing on the increasing number of Chinese tourists visiting the UK.
'Wholesome leisure attraction'
"They want to see other parts of England that have a flavour different from a major metropolitan area," he said.
"Our objective is to build on the heritage of Fleetwood, which has wonderful views over the Morecambe Bay towards the Lake District."
He said the "remarkable" gardens would provide a "walkthrough [of] three different regions of China from a tropical flora perspective".
He also said the project's first stage, the building of a fishing hub, would create 300 and 350 jobs, potentially doubling the number of people employed in the industry, which has been in decline in the town.
The plan for the docks also includes a tram link to Poulton-le-Fylde along a disused railway line.
Mr Woodman said the scheme, which would be completed by 2023, would have "a wholesome leisure attraction", but would not be "competing" with the nearby resort of Blackpool.