Catholic priest jailed for sex abuse granted right to appeal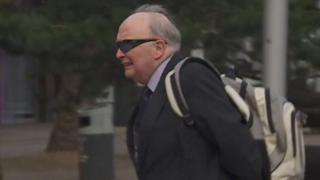 A Catholic priest jailed for sexually abusing a teenage boy has been granted the right to appeal by a senior judge.
Michael Higginbottom, 74, from Newcastle, was found guilty of a series of sex assaults when he worked as a teacher at St Joseph's College, in Upholland, Lancashire, in the 1970s.
He was jailed for 17 years in April.
His lawyers told the Court of Appeal his convictions were unsafe due to an error in the trial judge's ruling on what evidence went before the jury.
Higginbottom, of West Farm Road, Walker, denied eight counts of sexually abusing the boy when he was aged between 13 and 14, but was convicted at Liverpool Crown Court.
After hearing evidence from Higginbottom's lawyers, a Court of Appeal panel, led by Lord Chief Justice Lord Burnett along with Mr Justice Teare and Mr Justice Kerr, ruled there was an "arguable point" as to whether details of a fraud charge should have gone before the jury.
Mr Justice Teare said there needed to be a "detailed examination" of the evidence in the case to work out if the conviction remained "nevertheless safe".
During his trial, jurors heard that Higginbottom had a reputation for violence at the seminary, using or threatening physical abuse of pupils.
His victim, then in his 50s, said he would be called to Higginbottom's room, with the threat of punishment if he did not attend.
He told jurors that "being left alone at Upholland" was "worse than death".
No date has yet been set for the appeal hearing.