Burnley FC charity offers to run Hameldon College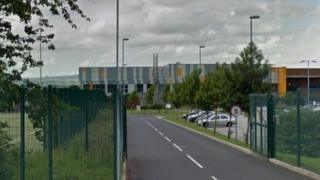 Burnley Football Club's official charity has offered to take on the running of a struggling secondary school in the town.
Burnley FC in the Community said it was interested in "operating Hameldon Community College under an alternative strategy."
The Lancashire school has been told it faces closure next year after falling standards and student numbers.
"No decisions have been taken at this stage," said Lancashire County Council.
In a letter to the council dated 20 October, the charity presented two options to take on the threatened college.
The first involves Burnley FC in the Community working in partnership with the county council.
Under this proposal, the school would remain under the control of the education authority, but would benefit from the "positive publicity created by the involvement of the football club".
'Managed carefully'
In the second option, the charity has offered to work with a "different education provider to implement a free school/academy trust arrangement."
The partnership would be similar to the Everton Free School which was created earlier this year by Everton FC's own official club charity.
But in the letter, Burnley FC in the Community has warned the council that the project "needs to be managed carefully" as "a Burnley FC School could attract pupils from existing schools in the town and weaken them."
Hameldon Community College faces closure in August 2018 after seeing pupil numbers fall every year. As of May 2017, there were 275 pupils in a school built for 750.
The £22m school was built under a Private Finance Initiative and a 2015 Ofsted inspection rated it as "requiring improvement", highlighting issues with teaching quality and pupil's achievement.
In a statement, Lancashire County Council said: "As part of this process, we've received comments from various organisations and the public, which we have considered.
"As we move into another stage of consultation, no decisions have been taken at this stage about the future of the school."
Burnley FC in the Community declined to comment on the proposals.
The BBC has contacted Hameldon Community College for comment.