Catch 22 Bus Ltd boss 'spied' on government inspector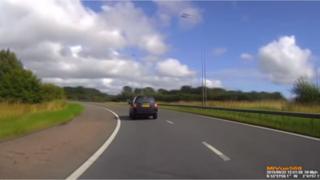 A bus operator who hired a private detective to spy on a government inspector has lost his appeal to have his firm's licence reinstated.
Philip Higgs developed "animosity" towards the official because she would not say who complained about his firm Catch 22 Ltd, a tribunal heard.
He posted footage on YouTube of the inspector driving her own car poorly, in an attempt to discredit her.
A tribunal judge said the conduct was a "serious invasion of privacy".
Judge Howard Levenson also said it was an "attack" on the adjudicatory process. Mr Higgs is to challenge the decision.
The Lancashire company's licence for routes between Cleveleys and St Annes and another between Fleetwood and Thornton will be revoked from 18 February.
Traffic commissioners are supervised by the Department for Transport and are responsible for the licensing and regulation of operators of buses and coaches.
Judge Levenson, sitting in the Upper Tribunal which hears appeals in London against tribunals in England, said Mr Higgs "developed a degree of personal animosity" towards the official.
She had been investigating allegations about the company, including that it was not adhering to registered routes.
'Upset and distress'
Mr Higgs instructed a private investigator to follow the official for three days and filmed her driving her own car, the hearing was told.
Mr Higgs then posted video footage using an assumed name with captions alleging the official "had turned left against a red light and had travelled at excessive speed along two separate motorways".
"The commentary effectively accused her of hypocrisy because in her professional occupation she exhorted licence holders to comply with road traffic legislation."
He circulated it to "numerous colleagues and associates" of the official.
The judge said Mr Higgs' conduct "amounted to a serious invasion of privacy" and caused "considerable upset and distress".
He added it was "a direct attack on the very essence of an independent adjudicatory process".
Speaking to the BBC, Mr Higgs said he had posted the footage online in "the public interest".